Welcome to the Central Florida Coin Club
General Information
The Central Florida Coin Club was formed in 1955 as a not-for-profit organization, operating for educational purposes. CFCC stimulates knowledge and interest in numismatics and associated hobbies. The CFCC is one of the most active coin clubs in America. We have approximately 175 members, with 50 to 75 attending every meeting.
Club Activities
The Central Florida Coin Club hosts bi-monthly meetings during which members buy, sell and trade coins, currency and numismatic supplies. The club is involved in educational activities frequently inviting speakers to attend and present on a variety of numismatic topics. The CFCC also sponsors both a spring and fall coin shows each year. These shows are held at the Central Florida Fair Grounds, attracting 70 to 75 dealers. The club actively supports the Florida United Numismatists (FUN) through a variety of volunteer efforts including FUN Show registion. In an effort to increase membership and build relationships between club members and the local numismatic community, the club also hosts an annual October picnic as well as a Holiday party in December. The CFCC plays an active role in the community by making presentations to local schools and other organizations in an effort to educate interested parties in the history, art and value of numismatics as a hobby.
CFCC Educational Programs 2016
February 24 - The Coinage Act of 1965: A 50 Year Retrospective - Part I
March 23 - The Coinage Act of 1965: A 50 Year Retrospective - Part II
April 27 - The Beginners Guide to Roll Searching
May 25 - The Pan-Pac Exposition of 1915
June 22 - Crown Sized Coins of the World
Calendar of Events
CFCC members can participate in club meetings, coin/currency related events in our community and attend regional shows. Open the calendar below to view a complete list of numismatic events.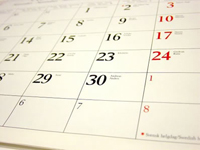 Click the Image to view the clubs' Calendar of Events